Tibetan market in Ahmedabad 2023(Address, Timing, Prices) which is unique all over Gujarat. The core purpose of this market is all about winter clothes for both males well as females In this market. You will get products like (sweaters, leather jackets, gloves, denim jackets, fashionable mufflers here.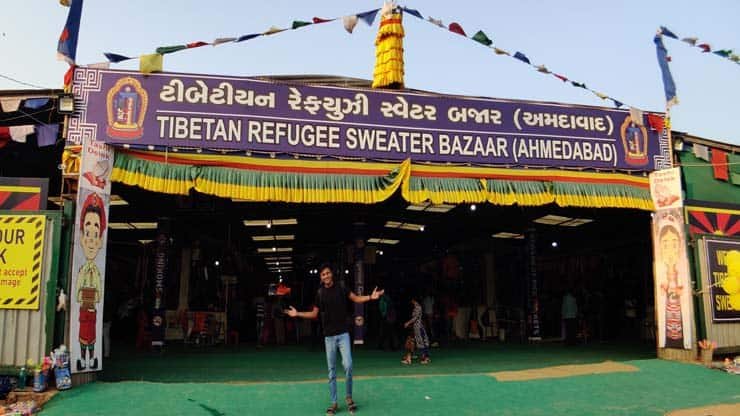 Are you excited to know more about Tibetan market In Ahmedabad 2023??? 
So let us begin…..
This market comes to Gujarat, especially in Ahmedabad.
The Tibetan Market in Ahmedabad 2023 is also known as the seasonal winter market. It is held in Ahmedabad during the period of November to February mostly every year. In this market you will get all trending winter clothes without finding many other shops from children to older.
Is Tibetan Market Contains Least Price Comparing Other Shops??? YES of course.
we had explored many of the other street shops. From that we are getting you to know that the Tibetan refugee market. It is one of the best markets maintaining quality, material, prices, etc.
Timing and Location of Tibetan Market in Ahmedabad 2023????
The timing of this market is as we all know from 11:00 AM to 10:00 PM. This market is located NR Narang Pura riverfront.
About The Tibetan Refugee Market In Ahmedabad 2023:
Ahmedabad Tibetan market which is also known as (Nepali bazaar). Many of the shop keepers come here from Nepal to sell their unique products. The located place of this market is a very famous place of Ahmedabad. It is also connects you with events like flower show, international kites festival, book fair.
Conclusion:
This market is all about a rental property. From the central government also welcomes them to have their shop in Ahmedabad. This market has some high prices but the quality of the products will be fair comparing other local shops. So we are here to tell you that you should visit this market once. You will definitely appreciate this market. And also satisfied with your best products. I hope this Tibetan market in Ahmedabad 2023 information is helpful to you.
Also visit my article: Sabarmati Ashram
Follow on instagram for latest update @ahmedabad_on_net
[insta-gallery id="2″]