Our Ahmedabad is one of the most famous city for kite and manjha making across all our Gujarat, The kite bazar of Ahmedabad has various places where you can buy the quality of kite and manjha.
Raipur Patang Bazaar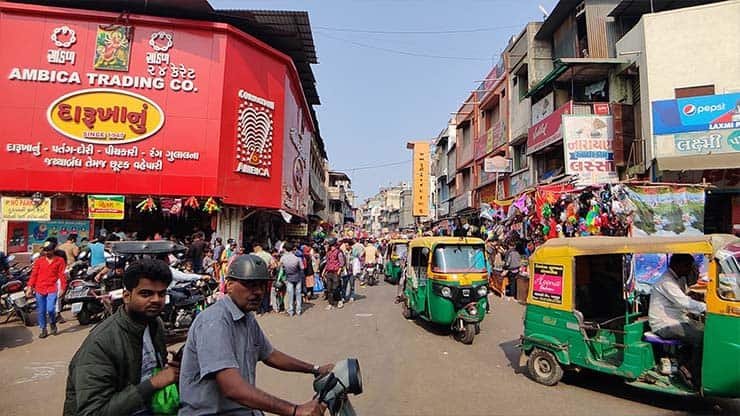 Raipur Patang Bazaar is the biggest patang baazar where you can buy the best and quality of kites and manjha.
The most important of this market is you can buy kites & readymade manjha and also coloring the thread in this market (50 rupees for 1000 Meter), a thread will be coated with powdered glass, which will make it strong to cut other kites or survival of your kite.
Address: Raipur Baazar, Raipur Darwaja, Ahmedabad
Kalupur Kite Market (Tankshal)
Kalupur Kite market is the oldest & huge market even for retailers, This is also the kite bazar of Ahmedabad, This is place where you can get the best kites & manjha at the lowest prices. As per my research literally prices are very low compared to the Raipur market.
The above picture is the manhar shop where you can get all types of pure Gujarat manjhas.
All shops are seasonable, Based on the festival or season you will get materials. This is the oldest market for retailers that's why the prices are very low.
Address: Kalupur TankShaal, Kalupur, Ahmedabad
Jamalpur Kite Market
Jamalpur is a hub of The kite bazar of Ahmedabad, where the resident's peoples are making kites and sell them in the lanes. Here you can get the kites at the cheap price. Here your bargaining skill will works (if you have)
Address: Jamalpur Ahmedabad
Patang Bazaar near Sardar Patel Statue
This is also the seasonal bazaar near the Sardaar Patel Statue in Navranpura. Here you will get lots of variety of Kites, manjhas, glasses, balloons, caps for children and whistles to blow.  The kite bazar of Ahmedabad has very crowded because some peoples come from different places to purchase kite, Manjha, etc.
All of the above-market is seasonable where you will find different varieties of products based on the season.
If you are in Ahmedabad you must visit the International Kite Festival you will enjoy lots of kite flyers across the globe.
The kite bazar of Ahmedabad is a great market if you need some quantity products so you must visit this all market prices are very different, you will get quality products at affordable prices.
I hope this article will be more useful to you & you will enjoy your Uttrayan
Follow on instagram for latest update @ahmedabad_on_net
[insta-gallery id="2″]