Our Ahmedabad has many tourism & historical places but nowadays events like flower show, International Kite Festival & many more are the attraction of Ahmedabad. Flower Show 2020 is the most liked event for all our Gujarat.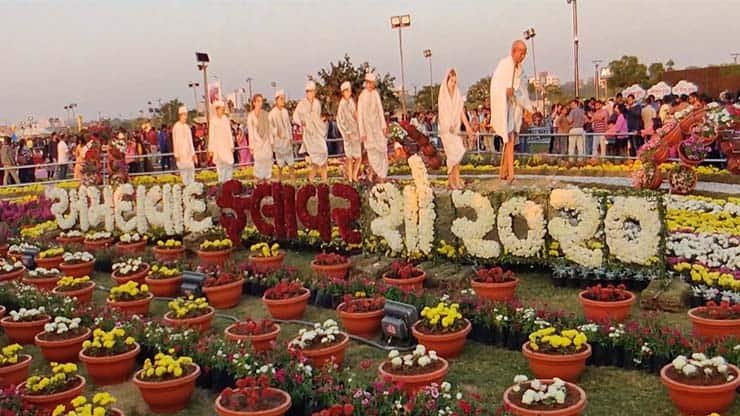 About Flower Show 2020
This is the 8th edition of a flower show in Ahmedabad which is located at the Sabarmati riverfront. In this New Year 2020, the Core theme is based on Mahatma Gandhi for 150 Jayanti.
Ahmedabad Municipal Corporation (AMC) has organized the event at a riverside garden where different types of sculptures made out of flowers & plants.
Since 2013, every year across Gujarat peoples are coming to Ahmedabad to visit flower shows. This year around 10 lacks flower plants used to make sculptures. The budget for this event is around 2 cores.
It always annually in the month of January. The "Riverfront Flower Show 2020" at Sardar Bridge is inaugurated by the Honorable Chief Minister of Gujarat, Shri Vijay Rupani.
Last Year's Flower Show 2019 Theme
In the 7th edition of the flower show 2019, more than 50 sculpture was made including Sea Plane, bullet train and Gandhiji Charkha. In last year AMC has taken a 10 rupees ticket to visit the flower show.
The timing of the flower was 10 AM to 09:00 PM where Monday as a holiday because on Sunday thousands of people visit across the all over Gujarat.
The last year 2019 is also more attractive and for selfie lovers to take lots of selfies and clicking photos of free of cost, no charges are applied for photo clicking.
The Attraction of Flower Show 2020
Welcome with Sculptures of Peacocks
Dengue Mosquito Sculpture
Mahatma Gandhi's Salt March, Charkha, Dandi Satyagraha & Gandhi's Three Monkeys.
Sculptures on Sports Theme (Badminton, Hockey, Football & Cricket.)
Sculptures on Fire and Emergency Services
Ayurvedic Theme based Farm
More than 10 Lacs plants and 730+ varieties of plants
Sculptures of Dragon Dinosaur and Hippopotamus
Sculptures on Save Water Theme
Food Stalls
7+ Nursery Stalls for the selling of various plants
About Flower Show 2020 Timing & Location
Date: 4th January to 19th January
Timing: 10:00 PM to 09:00 PM
Entry Tickets:
20 rupees (Monday to Friday) – Age: 12+ years
50 rupees (Saturday & Sunday) – Age: 3+ years
Free for Senior Citizens (Monday to Friday)
Entry tickets are also available at Civic Centres of Ahmedabad. You don't need to stand in a ticket line if you buy tickets directly from Civic Centers.
Location: Flower Garden, Close to Riverfront Event Center, Sabarmati Riverfront, Behind Tagore Hall, Paldi, Ahmedabad Gujrat.
Entrance gates are multples so don't confuse.
Gate No.1: Flower Garden, Near Ellisbridge
Gate No.4: Event Center Ground
Parking Facility
Ground opp. Event Center, Near Sardar Bridge
Riverfront Plots Between Nehru Bridge and Ellis Bridge
Sports Ground Parking.
Electric Bus service is also available for FREE to transport from Parking locations to the Flower Garden & the Same bus will also pick-up & drop from the location of flower show to International kite festival 2020 Hurry!!
Apart from this Ahmedabad flower park is always available to visit at the same place. The only new is the sculptures made by flowers and flower stall to buy plants. We have captured some of the pictures of the sculptures.
To explore more pictures visit our Instagram
[insta-gallery id="2″]